Blogging is a great way to share your content with the world.
For your blog to be noticed it's very important to be ranked in major search engines like Google and Bing.
Blogging has become ever more popular in the digital world today.
It's a great way to make a full-time living by monetizing your blog.
As a blogger, you need to create lots of useful content, which your readers will like to read and publish consistently (especially for new bloggers).
The kind of content you put on your blog shall determine the kind of audience you would like to target.
So, let me share with you the 12 Proven Methods on How To Get More Attention To Your Blog –
1. Create High-Quality Content
As mentioned earlier, when you share out trending content, you will be more likely to attract a lot of interested readers to your blog post.
You can implement a few of these tools to help you create high-quality content –
Disclaimer: I have not used any affiliate links. These are direct links to the main site.
SEMRush: A great keyword research tool for your Blog SEO. With SEMrush you can track your competitor's keywords, low-competitive keywords, and backlinks.
Grammarly: Grammarly is a Chrome extension application that helps us to avoid grammar mistakes while writing.
Ubbersuggest: This is a free keyword tool to help you generate keyword ideas for your content marketing strategy and production. A great tool for seasoned bloggers to generate new ideas for their upcoming blog posts.
Google Docs: Writing your blog posts directly in the WordPress editor is a daunting task. That is the reason why you should first draft your blog post on Google docs because it automatically saves all your work even if you forget to save it. I highly recommend you to use the Google Docs tool for writing all your upcoming blog posts.
2. Be Consistent with Your Posting
If you are taking up blogging as a full-time profession then you need to treat it like a business.
This means rolling out with fresh content every week.
Blogs that tend to have more frequent or regular posting schedules tend to develop an audience quicker.
Resource Article: How to Plan a Blog Schedule that You'll Actually Stick With
3. Focus On That Niche
Choosing the right blogging niche is very important for your blogging business.
It's the foundation of building a successful blog and helps you to generate a good amount of traffic.
To find that perfect blogging niche you need to select the right competitive keywords.
You can use free tools like Google Keyword Planner or SEM Rush Keyword Tool.
4. Keep Your Readers Engaged
As a blogger, you need to constantly interact with your readers and with other bloggers who are interested in your content.
So, it's very important to reply to your reader's comments and hopefully, taking some of their useful insights to come-up with more trending posts.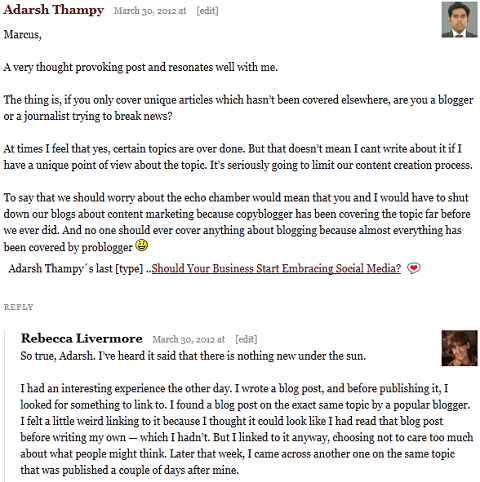 This way you will be able to better understand your readers well.
5. You Are Not Guest Posting
If you looking for your blog to get more attention, you need to start doing guest posting.
An important reason why you should consider doing guest blogging is that helps you to increase traffic to your blog.
Guest blogging helps you generate some good quality backlinks.
6. Offer A Valuable Freebie (Downloadable eBook) To Your Readers
Everyone likes something free, right?
By offering something valuable to your readers you will be able to establish a trust factor with your readers.
Try to offer them something valuable which will satisfy their needs.
The best way to go about this by offering them a free downloadable eBook in the form of a PDF.
Resource Article: Creating and Publishing Your eBook (A Definitive Guide for Beginners)
It could be anything ranging from topics, like, digital marketing, growing your social media followers, generating more traffic to your blog, and stuffs like that.
Let your readers and subscribers know that you are out with a free downloadable eBook and tell them to share it with their readers.
By offering something free you will be able to generate a lot of quality targeted traffic for free and eventually convert them to your email subscribers.
This is by far the best tactic to generate a lot of traffic for your blog.
7. Start To Focus on SEO
Search Engine Optimization (SEO) is one of the most crucial tools that help you drive traffic to your blog and the most successful blogs are SEO-friendly.
Driving organic traffic to your blog is very critical for your blogging success.
Keeping your blog SEO friendly will help it to be ranked faster on search results and be more searchable for your target audience.
After all, that's where your readers and leads will start to look for solutions to their problems, right?
Never underestimate how powerful SEO can be 🙂
8. Start To Comment On Other Peoples Blog
Commenting on other people's blogs is a great way to let yourself be known to other readers.
By doing this you are making your presence be felt in the blogosphere.
Commenting on niche blog sites is a great way to attract new targeted visitors to your blog.
Blog commenting gets you a lot of niche related backlinks.
Some of the blogs give do-follow links which are very important for SERPs.
It's always a good practice to comment wisely on other people's blogs.
Don't be generic with your blog comments.
If you appreciate someone's post, you will provide some thoughtful touches to your comments appreciate other people's work.
Resource Article: How to Comment on Other Blogs and Become a Better Blogger
9. Be All Out on Social Media
Publishing a new blog post does not mean you are all done!
You must enhance the visibility of your post on other social media platforms.
Social media platforms are growing in popularity every day.
With the use of channels like Facebook, Instagram, and Twitter, you will be able to grow the level of engagement that you get on your blog.
Promoting your posts on different social media channels requires you to adapt to different strategies.
Take, for example, if you want to promote your new blog posts via Facebook, you should create a niche group on Facebook.
You can also use triggers which expose new reads to your audience.
If you set up a business account both on Facebook and Instagram, you will be able to check the level of user engagement on your blog content.
This can help you better understand your audience to tailor subsequent content to their interests.
10. Get Active on Pinterest
I honestly feel Pinterest is one of the best sources of blog traffic.
Pinterest is not all about creating and sharing your owns pins but also sharing other people's pin on your group boards.
As a blogger, you should make use of a free platform like Pinterest to drive a massive amount of traffic to your blog.
However, here are a few important tips to keep in mind to start getting Pinterest traffic:
Always create two to three pin graphics for each blog post. Make sure the three pins differ in terms of pin description, pin design and the text overlay on them.
Learn about the basics of Pinterest SEO as soon as possible so that your pins start ranking in Pinterest search results.
Make sure you create vertical pin graphics ( 2:3 ratio). Horizontal images do not work on Pinterest. Always create long and vertical pins.
Regularly make new pin images for old blog posts.
Make sure the images used in Pin graphics are bright and clear. If possible, invest in paid stock photos for creating pins.
I would suggest learning as much as possible on Pinterest.
Resource Article: 9 Ways to Use Pinterest to Drive Traffic to Your Blog
11. Create an Email List
As a blogger, you need to have an email list.
Here are some reasons why you need to have an email list for your blog.
Email marketing helps you connect with your audience: Connecting with your audience helps you to nurture your leads and eventually convert your audience to ready buyers.
It helps you to generate more traffic to your blog: Having an email list shall allow you to send newsletters to your subscribers and latest blog post updates and new features about your blog.
Helps you to sell your Product Offering: The reality is people buy stuff from people they know and trust. Having an email marketing tactic in place will help you to build trust with your audience. Sending useful content and getting to know their stage in the buying process will help you to customize your selling offer.
You are in control of your list: Unlike social media, you have complete authority over your email list and is one of the easiest ways to market your product offerings.
To create an email list, you can use tools like GetResponse.
Finally,
12. Add Those High-Quality Images for Your Blog Posts
Your blog posts should be informative and relevant and provide detailed descriptions to illustrate whatever message you are trying to pass.
Using photos that have high quality when creating content will help to complement the information in your blog and make them easily understood by your audience.
Having too little or no visual materials at all can make your blog posts look empty and will bore your readers right away!
People love reading blog posts with some visual images.
To Conclude…
Getting more attention to your blog requires time and patience.
For your blog to be ranked on major search engines takes time.
It could range anywhere from 6 months to a year.
Smart bloggers don't just focus on one single traffic source.
They need to experiment with different traffic sources.
If you are a new blogger and want your posts to be read by more readers, and promote your offers, then you need to implement a few of the above-mentioned strategies.
I hope you enjoyed reading my blog post.
Let me know your thoughts or suggestions in the comments below.
And if you liked it, Share it!
My name is Sujoy Mukherji. I am an Internet Marketer, Entrepreneur & Professional Blogger. Founder of the Affiliate Hub Blog.