There is no doubt that the world has gone digital; the stats are in, and the fact is undeniable.
With a digital approach, those in business can reach out to their prospects through social media marketing, and many more.
The exciting part is that the quest for improved business activities creates opportunities for those who have excellent marketing skills to cash out and become relevant as well.
No business would cheerfully want to waste time and resources engaging in social media viral marketing if they don't know the nitty-gritty.
This is where you come in with your expertise.
As such, there is the need to build your skills and become a force to reckon with in your niche.
Introducing Learn from Fiverr, a new affordable and curated online course platform designed successfully to help freelancers and professionals uplevel their skills and grow their businesses.
If you want to delve into social media marketing and become a top-of-the-line expert, you wouldn't want to miss out on certified courses for freelancers on Fiverr.
Lately, Instagram marketing, Facebook advertisements, and campaigns have been the source of most business growth and business owners are even willing to pay more to achieve better goals.
This is not just an opportunity to master a skill but to monetize it over time.
Certified Courses Work Best
You could have a mentor, download a few series online and go on search engines to learn one or more things, but they can hardly beat what you get from certified courses.
Marketing is a skill, and you need to learn from accredited courses that are comprehensive and detailed.
Many businesses are operating below their potential, and all they need is a spark to ignite their relevance, and this is where social media marketing comes in handy.
You could be the next social media manager.
So, what's so special about Learn from Fiverr?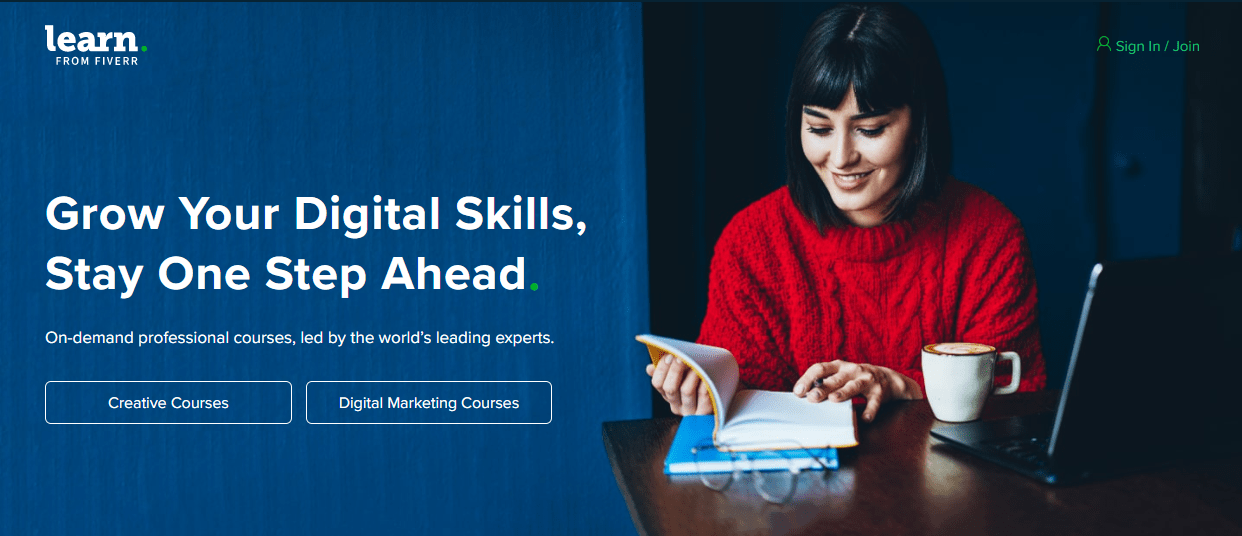 Let's first ask ourselves this question, how do we know Learn from Fiverr is the real deal?
Well, Fiverr Learn features big instructor names, like –
Sharon Lee Thony (A Wharton MBA & Digital Marketer with 15+ years of experience building global brands, including Dove and Axe)
Blitz Metrics (Facebook Ad Expert who has spent over $1 billion on Facebook Ads for his clients in the past 11 years)
John Youshaei (Marketing Manager at YouTube, ranked as one of the world's top marketers by Forbes and Entrepreneur )
Jeff Sauer (World-renowned Google Analytics and PPC expert who has trained dozens and thousands of digital marketers)
Ian Cleary (Globally recognized content marketer and author, with a passion for marketing technology)
John Chang (Award-winning digital and growth expert at IBM and Kickstarter, as well as a recognized global educator at NYU)
Haylee Powers (An Emmy award-winning designer specializing in brand strategy and design for compelling businesses)
Kelly Murphy (SEO expert and digital marketer, with experience working with top Fortune 500 companies)
Oren Ben-Ami (Education Manager at Fiverr with years of experience guiding freelancers)
Brian Schmitt (Multiplatform designers with 15+ years of experience working with major brands, like Nike and Apple
Bill Shander (Information Designer with 25+ years of experience. Some of his clients include the World Bank, the UN, and Starbucks
Daniel Walter Scott (Adobe Certified Instructor with 15+ years of experience in media design)
And the list goes on
What I like about browsing through each of these Learn from Fiverr Courses is watching an introductory video about the trainers, their experience, knowledge, and expertise about the courses being offered.
Learn from Fiverr courses are categorized in two niche categories, namely –
Creative
Digital Marketing
Here, I have listed out what sort of courses are offered under these two respective categories –
At the present moment, Learn from Fiverr only offers 35 courses for now and the number of courses being offered shall increase in the coming months.
Each of these courses is pre-recorded, self-paced, and available on demand.
What makes these courses special is that Learners are going to be tested periodically along the way.
Course Pricing
Let me break down the pricing based on the two categorized niches.
Courses offered under the Creative category range from $19 to $95.
And, for the Digital category courses, the course package ranges from $19 to $74.
So, does Learn from Fiverr offer any FREE courses?
Yes!
I highly recommend anyone new to Fiverr to undergo this course called Online Freelancing Essentials to be a Successful Fiverr Seller by Oren Ben-Ami who is the Education Manager at Fiverr.
I love the fact that most of these courses offer High Definition Video Tutorial classes with a Course Syllabus topic structure.
I may be a professional digital blogger, but I am also a Certified English teacher teaching English in Vietnam.
I can't stress how important it is to maintain a structured course outline (lesson planning) before I conduct any of my classes with my students.
Similarly, I love the fact that Fiverr Learn offers these kinds of similarities and makes it less confusing for us to take away the guesswork.
What about the Refund Policy?
There's no money-back guarantee, but you may wish to coordinate with Fiverr Customer Support as long as you don't finish a course you bought.
Note: If you request a refund, then in most cases, you should get your refund within five to ten business days.
So, make sure to read thoroughly the course description, and watch the introduction video and the course syllabus before you proceed ahead paying money for it.
Conclusion
Now I am not saying Learn from Fiverr will be competing with Udemy or Coursera.
The courses offered here are specifically designed for freelancers and it's most suited for those who want to start selling their gigs (services) on Fiverr effectively and start making some big bucks.
Learn from Fiverr is a great resource to help people like you and me to remove all the guesswork and prevent us from failing to be successful sellers on Fiverr.
I honestly believe Learn from Fiverr will be useful if you're trying to learn the basics about freelancing in digital marketing or any creative field.
But, not recommended for those who have years of experience in any of these fields.
I hope you enjoyed reading my blog post.
Let me know your thoughts or suggestions in the comments below.
And if you liked it, Share it!
My name is Sujoy Mukherji. I am an Internet Marketer, Entrepreneur & Professional Blogger. Founder of the Affiliate Hub Blog.