Since coming to life and astonishingly evolved over these years, the Internet has opened so many different (and weird) opportunities for us, the MMOers, to make money. However, most people are not able to do so because they simply aren't aware of the options.
Besides the most common ways that we usually stick with, there are indeed the other less known and abnormal ways to make money online which I feel require no training whatsoever, education, or spending heavy tuition to get started in 2019. All you need is some personal devices (smartphone, computer) and a decent knowledge of what you are interested in.
Curious about what they are and eager to make some money? Read on to find out.
If you are an artsy guy:
1. Make Money Online by taking pictures from your smartphone
As more and more people look for starting their businesses and websites (including us), they shall need photos. This means they have 3 options:
Use free stock photography
Use licensed stock photography
Hire a professional photographer
You can, therefore, make money with 2 & 3, assuming you know how to take nice shots.
The good news is the camera technology and convenient apps on phones nowadays will back you up. You don't need to buy super expensive camera equipment to get started.
Just expect some good days, grab your phone and take some shots on the street of various subjects that you would love to capture, then have them uploaded on Photography Jobs Online or Camera Career. You may get paid hundred dollars a day or more in this form by doing this simply as a form of hobby.
2. Make Money Online by publishing an e-book with Amazon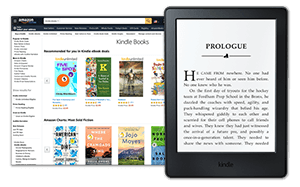 Amazon Kindle Direct Publishing (KDP) is a place where writers/ authors/ marketers can publish e-books for sale. This is another potential way to make money online.
This is because you do not have to worry about hosting, SEO, and traffic much, as you know Amazon is the largest e-commerce website on the planet. They are a well-known platform with huge traffic.
According to the experience of some e-book writers, you may create e-books sharing some tips or tricks, with about 8,000+ words on topics such as Photography Tutorial, Weight Loss, Dog Training, Stock Trading, Self-Improving… But you don't need to be a professional writer or have a creative bone in your body. You just need to know your stuff well (of course), and know-how to market your book to the right audience, and let the rest will happen.
Some authors are making over $40,000 a month, just from pumping out small e-books like these!
3. Make Money Online with Music Review
Yes, you can get paid in this way, too. Sounds funny, right?
Well, by listening to and reviewing unlabeled bands and artists online, you can boost your pocket money by a good margin. Some even have decided to make it their private business for solid cash flow.
Though it can take a while to build up your reviewer's reputation, this job may generate a minimum revenue of $500, monthly.
You can look for Musicxray or RadioLoyalty for a fresh start.
4. Make Money Online with apps testing
Every day, there are thousands of apps hitting the app store. From games to emoji apps these programs are flooding the market.
A little-known fact is that these companies need to test the app before it hits the app store. These companies have spent thousands of dollars building these apps, and they need to make sure that when people try them, there are no bugs or problems. To do this, they pay people to test the apps for them.
So, simply you can make money using your smartphone or tablet by testing apps. Try to tap on Appcoiner, play with it on your phone for 10-15 minutes, then write a review for the company, so they know what to improve on.
Here is a short tutorial video on How You Can Test Apps with Appcoiner –
(In fact, some companies are willing to pay you for just installing the 'shopping behavior investigating' app and then leave it alone for other tracking purposes, namely: Nielsen Digital Voice App, Smart Panel, or Media Insider Panel. This is the most passive way to make money that we can think of.)
5. Make Money Online with websites testing
Likewise, websites need to be asserted before launching, or during operation frequently.
Preferable candidates are Usertesting or Testing time.
If you are a trader:
6. Make Money Online with Domains Flipping
This one is one of my favorites, domain flipping is the process of purchasing a domain name with the intent of quickly selling it at a significantly higher cost. It doesn't require you to build anything at all. You just have to have an eye for quality domains or a knack for predicting what a good future domain will be.
Now mind you this can be slow going as you initially have to build up a portfolio of domains, and often that means buying all of the TLDs (.com, .net, .org, .co, etc.) associated with your domains (a shady tip)
However, because everyone has the next greatest idea, they need a great domain to attach to it and you just might be the lucky holder of such a domain.
7. Make Money Online by Speculating on the 'Disney Vault'
To keep demand high across generations, Disney Studios carefully restrict the supply of some home-release classics. They are locked away in the 'vault' for 8-10 years before being released for a short unspecified time.
Buy them in this window at normal retail price and you can turn a nice profit when they go off sale for another decade or so. For example, in 2011 you could buy Beauty and the Beast on Blu-ray 3D for just $30. In just a couple of years, it was on Amazon for a staggering $120!
(However, importantly, not all Disney releases are subject to the vault and only the true classics will maintain such demand)
8. Make Money Online with Outdated Mobile Phone Recycling
Got some old phones stuffed away in drawers that you haven't used since you got an upgrade? Rather than letting them gather dust 'just in case you possibly need one of them again (never gonna happen), why don't you sell them instead?
You can earn good money and help the environment by recycling your old mobile phones and other unused devices. (Maybe ask your parents if they have any lying around too.)
Sellmymobile is where you can make the first trade.
9. Make Money Online with old CDs, DVDs, and Games
Not so different, most of us will admit to having a stash of books, CDs, games, or DVDs that, being honest, we're not going to watch or use ever again.
To transfer wastes into quick cash, MusicMagpie, WeBuyBook, and CeX are places you can think of.
10. Make Money Online by Selling Your Hair
Yes, you heard it right. I'm not crazy, there is an actual online hair marketplace (like eBay for hair trading) called HairSellOn, which permits you to post your hair samples and let people bid on them.
Will you be ready for this? 😊
Until now, you have gone through 10 weird ways to make money online in 2019. As you may notice, making money online is sometimes a difficult path, not an overnight method to make rich quickly (none does).
I hope you enjoyed reading my blog post.
Let me know your thoughts or suggestions in the comments below.
And if you liked it, Share it!
My name is Sujoy Mukherji. I am an Internet Marketer, Entrepreneur & Professional Blogger. Founder of the Affiliate Hub Blog.