I have been blogging for a while now and honestly, I can say sitting down and writing a fresh blog post is a daunting task.
All kind of questions swirls through your head.
Questions like where do I start, how do I put my points across, what am I going to say and how many words do I use.
I would say planning and strategizing your blog post is the key ingredient here.
If you are thinking about writing a perfect blog post you need to get your content right!
You want to provide value to your readers, but how do you get readers to read your blog?
The perfect blog post is not just about providing good content, it's the way you format your post paramount to the actual content itself.
The good news here is that you don't have to be a professional blogger or an eloquent writer.
You have something to say that will help you connect with your target audience and value which you would like to provide to your target audience.
They aren't expecting a masterpiece from you.
As a blogger, I learned to focus on how to write blog posts for my readers who are searching for answers, advice, and specific information that they are searching on the net.
I would say content marketing can enhance your online visibility and generate leads within a short time frame – but you need to get it right!
So, below I am laying down the guidelines on How to Write that Perfect Blog Post – 14 Pro Tips (2019) –
1. Research and Plan What You Want to Write About
It's always a good idea for you as a blogger to spend those vital minutes to plan out your post, i.e. what topic would you like to write about, what sort of value you can provide to your readers, how would your post be unique from other writers, etc.
Which leads me to my next point.
2. Have a Compelling Title
Having a compelling title is a crucial aspect for your blog to get attention from your readers.
The first thing that visitors like to do when they visit your blog is to go through your blog post title.
Have a good catchy blog title helps your post rank higher organically on Google Search results.
Pro Tip: It's important to include your most important keyword in the title, and also make it enticing and engaging for your visitors to click through and read your blog post.
You need to have a title to help your readers want to read your blog articles.
When you are a blogger, you often do not want to write what others want to know, but rather what you want to share from your experience.
Please don't provide misleading headlines to your audience.
Blogging is all about establishing a trust factor relationship with your audience.
So, don't break their trust by giving them irrelevant content that does not match with your blog post title.
I usually like to do some brainstorming and list down some trending topics which shall help me to write my upcoming posts.
You can use tools such a Google Trends, Ubersuggest, Buzzsumo, and Pinterest Ad Keyword Tool to help you generate new trending blog titles.
3. Your Main Content Counts :)
It's very important to have a lead paragraph that will help you to sum up your blog post.
Your lead paragraph should get right to the purpose of your post, i.e. what message you are your exactly trying to convey to your audience and make it relevant to the reader.
After the title, this could be the most important part of your post.
If you take too long to summarize what your article wants to convey to your reader you may lose their interest.
The perfect blog post will let readers know what they are about to enjoy right away.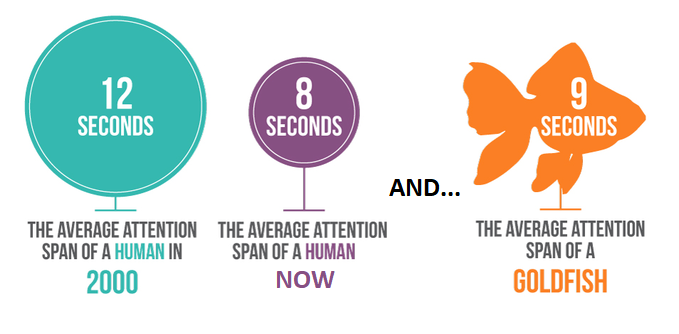 Your visitors from the internet have a short attention span, so make sure you open with a lead paragraph that lays out the post and lets the reader know that they have come to the right place.
The main point here is to keep your readers engaged with your post and your content for sure should be attention-grabbing.
Keep your content short, concise, and keep it strong.
Focus on what topic you want to write about and stick with the topic.
Do not try to run around the bush and be vague with your content.
Hope you understand what I'm trying to say here.
Don't expect all and each of your blog posts to be a star attention grabber by your readers.
Some of your posts may be getting less engagement and some or a few of them may get a lot of engagement from your readers and even a high amount of appreciation and appraisals.
So, not every post is going to get your motor running.
4. Time to Add those High-Resolution Images
Studies have shown if you post relevant images and I mean great quality high-resolution images for each of your blog posts, chances are you will receive more engagement from your readers.
Don't just keep your posts text-based.
No one likes that, and as a professional blogger, I dislike reading other people's blogs if they don't have any images on their posts.
Images are used to draw your readers into the post itself.
Some bloggers prefer to create photos and images before they start writing their texts.
Others, like me, prefer to first write (create a full text-based draft) and then find the correct images and insert those images accordingly.
Find an image that relates to your article and feature it prominently.
Note: Don't just download images from the net. Some of those images may have copyright restrictions. If you insert an image which has a copyright restriction on your post, you may get into bad trouble and a lawsuite could be filed against you. So, be mindful of that!
You can download free high-resolutions images from Unsplash or Shutterstock (Free 1-month trial).
Shutterstock provides over 70 million stock photos, vectors, videos, and music tracks that have free copyright labels and easy to download.
5. Do that Keyword Research
Stuffing a lot of keywords in your blog post is not an effective way to SEO optimize your blog post.
Pro Tip: The number one rule is to write your blog article naturally and not force keywords into your content.
The trick here is to focus on your main keywords in the first few paragraphs.
Your perfect blog post should be constructed with keywords in mind.
You can use keywords tools such as Google AdWords to help you analyze what keywords have high or low search volume and if the keywords are competitive or less competitive.
Keeping those keywords in your title and throughout the body will make it easier for your audience to find your post.
Keeping SEO optimized keywords helps your blog post to be ranked higher organically on Google Search Results.
6. Add that Personal Touch
To have that perfect blog post your content needs to engage with your audience on an emotional level.
If you write your blog post like a textbook type material, chances are your readers will lose interest in your content.
It's always a good idea to share your personal experience when you are trying to convey an example to your readers.
Here are some techniques you can implement –
Ask questions to your readers that will get them thinking
Tell them what valuable information you will give them
Share an emotional story – remember that personal touch factor which I talked about :)
Share a quote – a great way to summarize what you have to say and making an emotional connection with your audience.
Put in some interesting statistics or facts people want to know about
Try to use more of "I" and "You" to connect better with your readers.
Let your readers get to know you!
7. Try to Avoid Lengthy Blog Paragraphs
You will notice that most of my blog posts don't have more than 4 sentences on each of my paragraphs.
This helps me to keep my blog post more scannable for my audience to read.
It's easy for them to have a rundown of my blog post article.
Try to stick to 3 to four sentences per paragraph.
Keeping a lengthy paragraph will make it difficult for your readers to read your blog post and they may eventually lose interest.
Always better to stick with shorter sentences.
Bottom line, using shorter sentences make reading faster.
8. Use more of H2s and H3s
What do I mean by H2s and H3s?
It simply means you are inserting sub-headings.
Using H2s and H3s is a good idea to break up your paragraphs and summarize what each section is about, and keeps your sentences short.
A good rule of thumb is to keep your sentences short to no more than about 25 words.
Any more and you will make it harder for your readers to follow what you are saying.
9. Keep Your Blog Post-Short and Concise
There is a lot of talk going around that if you want your blog posts to be SEO optimized, your blog article should be at least 1000-1500 words.
This is all rubbish!
Well, I'm not saying it's bad to have some longer-form posts, but not each of your posts needs to be filled with tons of information.
You should strive to keep many of your posts short.
To have a good SEO blog, it's good to maintain 400-500 words.
10. Always a Good Idea to Insert those Links
What do I mean by this?
Well, I am not just saying that you should include your affiliate links on each of your blog posts, but it's always a good idea to insert a few of your links to your blog article which will re-direct your readers to see your other blog post articles.
I mean posting internal links to other blog posts on your site that is relevant.
When you are writing a blog post, you want your readers to have a journey type of experience.
Do you have any useful blog posts you could point them to, where they can find out more information about a certain topic?
Pro Tip: For all relevant blog articles that you have linked through to, include a link back to your new blog (using keyword-rich anchor text)
This helps to keep your article shorter, since, you can redirect your readers to different posts to expand on a point that you want to make.
Plus, you keep your reader on your blog site, while they are moving through other pages of your website.
That's always a good strategy for your Blog SEO.
You may also wish to post links in your blog articles for outside sources.
But do it wisely and don't overdo it!
11. Cite Your Source of Information
Whenever you are posting statistical facts it's a good idea to cite your source of information.
If you don't cite your facts and data, then your readers will not take your information seriously and eventually call it a B.S. and will not revisit your blog.
12. Keep Your Blog Post Unique
How unique is your blog post?
How does your blog post stand out from other bloggers?
The perfect blog post will make your audience stop and think.
Your readers should be able to talk and share about your blog article with other blog readers.
A good indication that you have done your job is a post with a lot of engagement.
Point to Remember: If your posts are generating a lot of comments, you know you have given your audience something valuable to talk about.
13. Always Add that Conclusion
Make sure to write a Conclusion every time you summarise your blog post.
And you can label your conclusion as, "Conclusion".
For me, having a conclusion keeps it really simple and your readers can scroll down, read your conclusion, know what your blog post is about, and decide if they want to scroll back up and read the rest of your blog article.
Having a conclusion is a great way to structure your blog post.
Finally,
14. Fine Tune Your Blog Post Before You Hit the "Publish" Button
Publishing a new blog post that you have written is always exciting.
But, make sure to analyze your post before you hit that blue Publish button.
Always look out for those grammatical errors, punctuation errors, etc.
If you are not sure about your punctuation, then keep sentences short and digestive.
That's the reason why I always like to use Grammarly as an installed plug-in when I draft my blog post before publishing it.
I like to use the free version of Grammarly.
It's more than enough for me as a blogger :)
To Conclude…
The above-mentioned strategies are a sure-fire way to help you write the perfect blog post.
Having a perfectly written blog post with valuable content surely helps you to stand out from the crowd.
And once the eyes of your audience are on you, your content will determine how long they stay there.
As for me, writing a perfect blog post takes a little planning, time in writing, and adding some good SEO elements.
Always stick with quality more than quantity.
Never rush!
I hope you enjoyed reading my blog post.
Let me know your thoughts or suggestions in the comments below.
And if you liked it, Share it!
My name is Sujoy Mukherji. I am an Internet Marketer, Entrepreneur & Professional Blogger. Founder of the Affiliate Hub Blog.